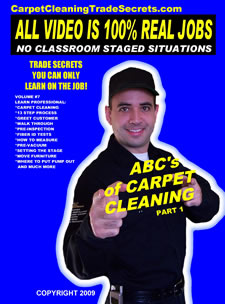 Part 1 and Part 2 are 45 Minutes each, and are power packed with amazing carpet cleaning techniques, demonstrated step by step, that will increase your revenues and repeat customers dramatically - guaranteed.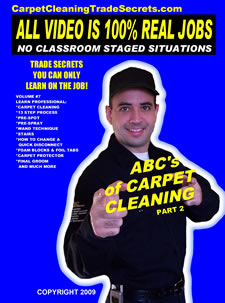 Also take a look at our Carpet Cleaning Training Bonus Package! This is a limited time offer.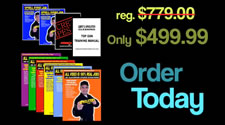 This is the most valuable DVD combination in the entire series!
The ABC's of Carpet Cleaning - A Two Part DVD Series, 45 Minutes each DVD That's over 90 minutes of action packed training that will teach you how to give your customers the best carpet cleaning experience ever and covers the most fundamental, often overlooked technical aspects of carpet cleaning in an easy to follow, easy to learn, step by step system! ONLY $149.99
THE ABC'S OF CARPET CLEANING IS ALL 100% REAL JOBS. What makes this series so unique? This is one of George's VIP customers and you get to see it all unfold step by step in real time - from parking in the driveway, how to properly greet the customer at the front door, walk through, pre-inspection, pre- vacuum, moving furniture, pre-spotting, pre-spray, pre-agitate, hot water extract, air movers, stairs, applying carpet protector, foil tap & foam block, final walk through and final groom. And much, much more.
George takes you through 13 steps, from beginning to end, how to clean an entire home while giving your customers the most incredible carpet cleaning experience ever. Not only does this series cover the most important and most overlooked technical details of excellent carpet cleaning, but it also shows you how to be enthusiastic and leave a positive, lasting impression with your customers - the key to solid profits and repeat customers. George's high energy will super boost any carpet cleaner and launch your business to new heights. This is a formula you can use over and over for success - the fundamentals of quality carpet cleaning, from customer service to fiber ID tests.
Many companies have no training in these areas at all, and just wing it. Most companies training programs try to cover everything, but without a comprehensive program like this that can be watched over and over, they end up having to learn in the field, which costs them money in lower sales and generates less repeat customers. But not anymore! Every carpet cleaning company can benefit tremendously from this proven system. It won't matter which carpet cleaner in your company does the job, you will all be giving the customer a polished, congruent experience from start to finish.
This is the most powerful carpet cleaning DVD package for a brand new person or an established company wanting to train a new technician. This is the first DVD series George's very successful carpet cleaning company employees view before starting their carpet cleaning career. What makes this so valuable is that it is a system that can be duplicated. You can take a brand new carpet cleaner that has no experience, and after he learns the system in this DVD he will be one of the finest carpet cleaning technicians in your area. Your new techs and experienced carpet cleaners alike will benefit greatly from The ABC's of Carpet Cleaning - ONLY $149.99.
If you want to take it to the next level, buy the entire series, this will seriously make you and your technicians the undisputed champion carpet cleaning company in your area.
The Breadwinner Package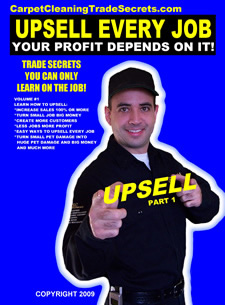 If you want to be a carpet cleaner who makes tons of profit, buy The ABC's of Carpet Cleaning and my two part How to Upsell DVD's. We call it the Breadwinner Package! Change your life!
The Breadwinner Package is the ABC's of Carpet Cleaning combined with the Upsell DVD's, and is over 180 minutes of action-packed never before seen customer service and the most powerful sales techniques in the industry. Rather than the price of both sets seperately, buy the Breadwinner Package for only $249.99 - a savings of over $99 available only as a limited time offer for our ABC's of Carpet Cleaning Debut.