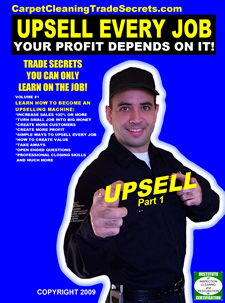 Part 1 and Part 2 are 45 Minutes each, and are power packed with amazing sales techniques that will increase your revenues dramatically - guaranteed.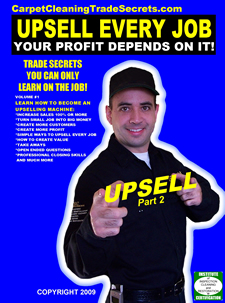 This is the most valuable DVD combination in the entire series!
How to become a
money making

machine!

LEARN HOW TO UPSELL: Increase sales 100% or more, turn a small job into $1,100, create more customers, less jobs more PROFIT and how to make a $100 an hour plus and make the customer your biggest fan. Easy ways to upsell every job.

Learn master sales techniques from the basics to the intermediate - how to do take-aways, how to ask open-ended questions, how to ask for the job and close the deal. This 2 Part DVD series is worth over $1,000 dollars and you're getting it for $199.99! Train yourself AND train your technicians to be powerful sales people.

This entire DVD series teaches you to use soft-sell approaches, that are not high pressure. Selling is simple, you just need the tools and techniques to be able to close the deal. If you use these techniques properly, the customer will spend more money, be glad they did, AND turn into a referral machine.

This DVD covers from A to Z how to sell. We teach you how to close the deal for upholstery cleaning, for extra rooms, for leather cleaning, mattress cleaning, oriental rugs, carpet repairs, restretches, autos and RV's, stuffed animals, guest houses, and businesses.

This DVD is so powerful, it is recommended that you watch it every day for the next 30 days. This will give you the result you have been longing for in your business. The secret to learning and selling is repition, so you truly upgrade the way you do business.